Board: crescent #310 
Product of U.S.A. Presently in use for its color generability
and usefulness, although it has irregurality in quality.
1:Drafting
 
Ever-mechanical pencils are used for drafting. 
I used to sharpen regular pencils by cutters, but changed to mechanical pencils in order to save time.
As a lead, 0.5mmHB Pentel-FOR PRO is my favorite.
Regular pencils give good taste upon using, but .........
After laying out each cuts on the board, the size of the TV frame is decided.
The frame will be drawn with rather a hard pencil, then the draft will be drawn.
For example ...... it will be like this. ( Please excuse me for expressing my male-natural desire!)    
2:Drawing with pens
Maru-pen and holbein BLACK ink is used.
I try not to change the mood of the draft drawings, but .......  
 
with this result ......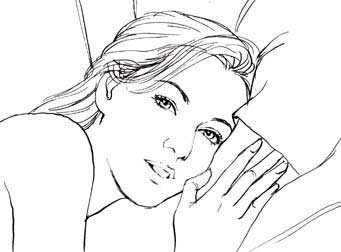 3:Coloring
 
WINSOR & NEWTON transparent watercolors are used
Paintbrushes .... KASUMI (large & medium size) by SEISIN-DO (purchased at UEMATSU, Shibuya) is my favorite.
KASUMI is quite firm and gives best results in drawing both fine lines and large areas.
Drawing like Japanese paintings by wetting the surface and shading off is also possible
Transparent watercolors are excellent for both pale colors and strong, flashy colors, giving clear expression.
I also use Dr.Ph.Martin's ink ( ex.., blue, pink...) for its color generabilty.
 
  Putting on the skin color  
  Giving solid impression with the same color  
 

  Putting in shadows  
 

  Putting colors on cheeks, eyes, and mouth  
 

  Coloring the background, the hair  
 

  Finished!  
 
If you can draw this in about 30 minutes, you can also be a storyboard artist at once! (9 x 12 cm)
Small tips : Use white in highlights, don't mix it with other colors.